14th International Symposium of Cognition, Logic and Communication
"Linking Senses: Cross-Modality in Perceptual Domains across Cultures"
December 7, 2019
Laboratory for Perceptual and Cognitive Systems,
Faculty of Computing, University of Latvia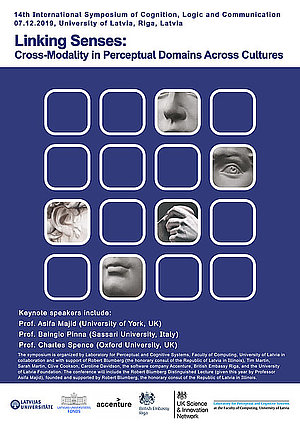 About the Event
Crossmodal mappings describe the systematic links between different stimulus features across perceptual modalities. Although crossmodal mappings are well-documented, several sensory domains (e.g., odor, taste, temperature) remain underexplored, and the relation of such mappings to emotion and action requires further elucidation. In addition, important questions still remain to be explored with regards to the culture-dependency and universality of crossmodal associations, and their development over the lifespan and across evolution.
The symposium invites submissions on the following topics, but is not limited to them:
Links between perceptual domains, especially the lesser-explored sensory modalities
Universality and culture dependency of perceptual modalities
The development of crossmodal associations
The cross-species consistency of crossmodal associations
Keynote speakers
Prof. Asifa Majid (University of York, UK)
Prof. Baingio Pinna (Sassari University, Italy)
Prof. Charles Spence (Oxford University, UK)
LU ziņas. Kognitīvo zinātņu simpozijā pētnieki runās par cilvēka maņu mijiedarbību
LU ziņas. Aizvadīts 14. starptautiskais kognitīvo zinātņu, loģikas un komunikācijas simpozijs
Radio NABA. Studentu pietura. Kognitīvo zinātņu simpozijs un LU SP Gada balva
Žurnāls SestDiena. Intervija ar Oksfordas Universitātes eksperimentālās psiholoģijas profesoru Čārlzu Spensu
VIDEOS:
Prof. Charles Spence - Crossmodal correspondences: Looking for links between sound symbolism & synaesthesia, & their application to multisensory marketing
Prof. Baingio Pinna - Eating with the eyes: On the role of shape and color
Prof. Asifa Majid - Linking Senses across Languages and Cultures
Prof. Asifa Majid - interview at the British Embassy, Riga
The symposium is organized by Laboratory for Perceptual and Cognitive Systems, Faculty of Computing, University of Latvia in collaboration and with support of Robert Blumberg, Tim Martin, Sarah Martin, Clive Cookson, Caroline Davidson, the software company Accenture and the University of Latvia Foundation. Many thanks to British Embassy Riga and the UK Science and Innovation Network for their support and collaboration.
The conference include the Robert Blumberg Distinguished Lecture (given this year by Professor Asifa Majid), founded and supported by Robert Blumberg.